The Few, The Proud, The Marines Forum
Backup location for this board.

If you forget the URL for this board, or you are at a different computer and don't
have the link just go to usmcforum.net for a clickable link to either board.
The Few, The Proud, The Marines Forum
How youth views U old farts. . . ~PIC~
Posted By: LongGone
Date: Wednesday - January 3,2018 08:43
SPOKANE, WA—Claiming they had never seen anything like it before, the stunned family of local grandmother Doreen Weiss [pix below] reportedly watched in disbelief Wednesday as she wolfed down a sandwich in 33 minutes.

"Man, she just stuffed her face and absolutely annihilated that thing," said Weiss's grandson Justin, noting that the family couldn't believe that their grandmother had "inhaled" her chicken salad on rye in just over a half hour.

"I wasn't even halfway through my club sandwich, and she was already completely done with her first bite. It was nuts. She even scarfed down a couple of crackers."

Justin Weiss went on to say that the family was floored when the 86-year-old "pretty much guzzled" two entire spoonfuls of the tomato soup that came with the sandwich before deciding she would save the rest for lunch and dinner tomorrow. (Onion.com)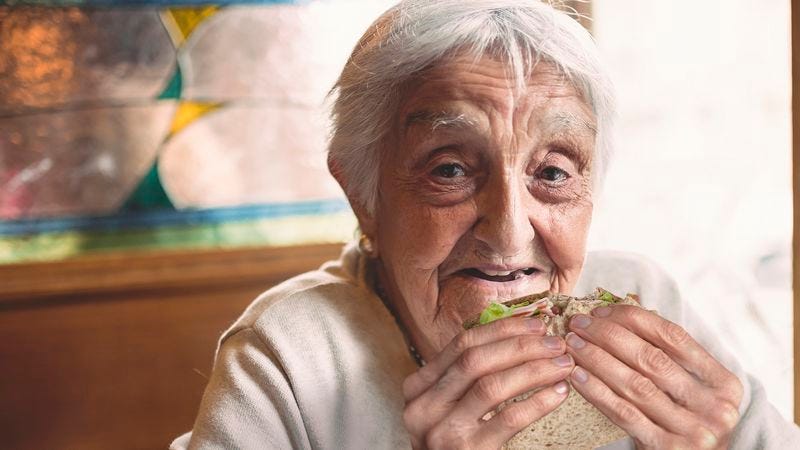 The Few, The Proud, The Marines Forum is maintained by Rick with WebBBS 5.01.